How To Make Money Online Selling Other People's Stuff Through Affiliate Marketing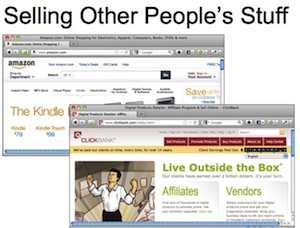 One of the most favored ways to make money online is to sell other people's stuff. Its really just a form of advertising someone else's product and driving traffic to their website sales page or order page. Many people sell great information and educational courses online in a digital format such as an ebook, video course, or sometimes they cuts sell membership site access to exclusive content online. The creators of these sites will often be willing to pay you a percentage (often up to 50% or more) to help sell their products. You simply have to become an "affiliate" partner and drive traffic to their site. If a person you sent to their site ends up purchasing the product, you get paid whatever percentage you signed up to receive. Clickbank is famously known to be one of the best sites for digital product creators to sell their stuff online. Affiliate sites to sell and promote other people's stuff are quite simple to build, the biggest challenge is getting them showing in the search engines. So having an established site with a lot of visitors coming to it to promote affiliate products usually works better, or having an email list will also do well for most. Once you start doing your promoting, many digital product sales get handled by Clickbank and they'll make sure to track your sales and pay you your portion.
Amazon – The Affiliate Sales Masters
Amazon.com is one the largest affiliate marketing websites in the world. You can promote any of their products and drive sales through their website. Doing simple product reviews on a blog or even mentioning a product that you use and explaining how much you love it can easily drive visitors over to amazon to do a final checkout. There are millions of dollars in affiliate sales paid out to various affiliates all over the world. With Amazon selling almost every product on the market, you can talk about almost anything and possibly convince visitors that read your site to go on over to Amazon with your special link and get a portion of the sale. Its pretty darn cool!
Not A Fan Of Amazon?
If you like shopping online at a special retailer online, check to see if they have thier own affiliate program that you can take advantage of. Many retailers today offer affiliate commissions to help keep sales up and let their fans do all the work for them.
Can You Create A Saleable Product For Others To Sell?
The other possibility that many marketers explore, is that of being the product creator and seller that allows other affiliate marketers to earn some money promoting their products. If your product is good and easy to promote, it could be a hit and have tons of people promoting your stuff for a piece if the profit pie . This has proven to be very effective and profitable for thousands of internet marketers.
Getting Started In Monetizing Your Website
The best way to get started in simply be like NIKE and "Just Do It". Find what you like to write and read about and start a blog or a site that has a lot of the information in your head and put it all online and see what you can do to draw visitors. While you're building the site, then do some research on how to put ads on your pages and start testing the waters. It can take a bit to learn and build an internet business, but you can definitely do it if you keep trying and make adjustments along the way.
Good Luck!