The Benefits & Problems of Standing at Your Desk
This is part 3 of 3 – to go to part 1 Click Here, or to go to part 2 Click Here
So when I moved jobs to a place where I could not raise my desk, I decided to raise my desktop. I bought my wife a table tray a while back that she never used anymore and luckily, it happened to be the perfect tool. Here's my current workstation.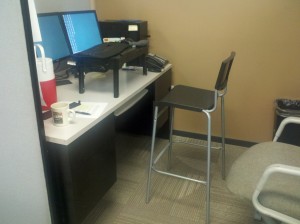 When you first start to stand at your desk, you may find that your body is not used to being in a standing position for 8 or more hours and you will probably need to take "sitting" breaks and stretch periodically. My body took about 2 weeks to get used to standing at my desk and I still sit throughout my day when I need to read or I get tired. Here the bad part you may experience right from the start.
First the pain will come, then the benefits followed shortly after. After 2 weeks of back and leg pain, it finally faded. Then I started to lose a few pounds and my energy increased a little. Nothing to write home about, but it was enough to motivate me to keep the changes permanent and do a little more physical activity at my desk. I later brought a small 5 pound weight to lift during times I had to be stationary and didn't have to type and had to read things. Basically when my arms would be useless for my task, I put them to work with exercise. Since I was already standing, there was no chair in the way to worry about.
Not long later, 2 others in my office got some bricks and lifted their desks. Since we didn't lose our chairs completely, we would still sit about 40% of the time or more, depending on the day's work that needed to be done. I try to stand more often than sitting, and finding an elevated chair or stool was helpful to lean on periodically and kept me on my feet longer.
I haven't been able to lose much weight lately due to an overall lack of exercise and bad eating, but I do feel that I don't get as tired and lazy near the end of the day as I do when I sit all day. If you can endure the back and leg pain for the first two weeks, I think you'll feel the difference too. Most of all though, I am getting more peace of mind and not worrying about the harmful effects that sitting may be causing. I did a little more research about the harm sitting all day does to the body, and there are quite a bit of articles on the internet that will scare you to stand if you read them too.
Aside from the health issues, productivity is the great positive "side effect" to having a stand-up workstation. It really is a great way to increase your productivity at work.
Let me know if you've had any experience changing to standup desks too! We'd love to hear your story.